Fergus Falls Sr High School
Class of 1966
In Memory
Henry E Rasmussen VIEW PROFILE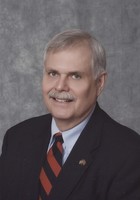 Life Legacy
Henry (Hank) Rasmussen Jr., 69, of Roanoke, Va., died at home on Saturday, April 8, 2017, with his wife, Diane, and his nurse, Amy, holding his hands. He fought a long, hard battle with lung cancer for the past year.
He was preceded in death by his parents, Eleanor and Henry; and his infant brother, John Henry.
Hank is survived by his wife, Diane; and three faithful friends, Maggie May, Buster and Max.
He was born on February 14, 1948, in Fergus Fall, Minn., where he spent his boyhood. Hank received his Bachelor Degrees and a Master's Degree in Business Administration from Moorhead State University in Moorhead, Minn. He had a long career with the Department of Veterans Affairs in various regional offices across the country and in the Central Office in Washington.
Hank loved to make things and fix things around the house which he did well but not quickly. He also loved traveling. Hank visited all seven continents and nearly all the 50 states. He was a Marine through and through. Hank served in Vietnam during the war and never lost the John Wayne swagger.
Diane would like to thank all the doctors and staff at Blue Ridge Cancer Center and the remarkable doctors, nurses, staff and volunteers at Carilion Hospice.
Services will be conducted by Pastor James Armentrout at 11 a.m. on Wednesday, April 12, 2017, at St. Mark's Lutheran Church, 1008 Franklin Road, SW, Roanoke, Va. Interment with Military Honors is scheduled for 1:00 p.m. Tuesday, April 18, 2017 in Quantico National Cemetery.
In lieu of flowers, donations may be made in his name to St. Mark's Lutheran Church.
Saint Peter's Gate is just a little more secure. Semper Fi!
Click here to see HENRY E's last Profile entry.